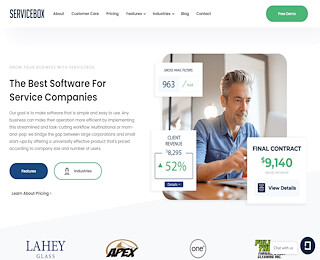 Handling construction projects can be challenging due to the different parties, materials, and equipment involved. Whether you're in charge of a small or large project, it's crucial to make sure that everything runs seamlessly. Creating a schedule ensures that each party completes their job on time, you procure materials as needed, and the project is not adversely affected by delays. It's easy to keep track of the budget, payments, quality control measures, and resources needed throughout the project with a schedule.
While a schedule improves project management for construction greatly, making an effective can be difficult, not to mention time-consuming. Fortunately, you can take advantage of scheduling software for construction businesses to create a concrete schedule. At ServiceBox, we simplify general contractor project scheduling with our top-of-the-line software.
How to Make a Construction Schedule
The first step in making a construction schedule is gathering information about sub-contractors, laborers, code requirements, materials, and funding. Find out how your sub-contractors plan on completing their tasks and how long they'll take.
For materials, create a list of what you'll need throughout the project and at what point. This will enable you to schedule the procurement of materials before they're needed on site. Check with your bank to see when you'll receive funds for various milestones. That way, you'll be able to plan tasks when you have enough capital to avoid delays while awaiting funding.
You will also need to visit your local code office and inquire about all the inspections and permits required at different stages of construction. Using this information, schedule the inspections as soon as the involved phase is done, and apply for permits early enough to avoid halting construction as you wait for the approval.
Task and Workforce Planning
The second step is making an exhaustive list of all the tasks that will be carried out during construction. Identify the order in which they will be completed and allocate deadlines for each. A construction project scheduling software makes it easy to plan every small task so that it contributes to the completion of larger milestones.
Next, take note of the people who're responsible for completing the duties you've outlined. Allocating roles to specific teams simplify supervision and tracking progress. Keep in mind when workers may not be available, for instance during holidays or for personal reasons.
Once construction begins, it's important to review your schedule every step of the way. Check to see which assigned tasks have been completed as planned and the ones that have suffered a delay. Depending on the circumstances, you might have to make changes to your schedule to match the present situation.
While it's almost inevitable that you'll have to update your schedule at some point, there'll be minimal disruptions if you improve your construction project scheduling with our premier software.
Create Schedules that Work for You
A great schedule gives direction and does away with unnecessary delays that would otherwise have major implications on your deadline and budget. Our unsurpassed general contractor project scheduling software makes all this possible. With our expertly designed software, construction project planning and scheduling will be more efficient, allowing you to make decisions at the right time. Contact ServiceBox to grow your business with the best software for service companies: 855-453-2967/Request a demo: http://getservicebox.com/demo-now/.